Minimum Balance Required
Annual Return
Features
Commercial Bank International - Aspire Savings Account

Minimum Balance Required:

AED 1,000

Annual Return:

0%

Features:

Dedicated Relationship Manager
Deposit from as little as AED 1,000
Flexible saving tenors from 6 to 60 months
Attractive rate of fixed interest
Full value plus interest paid on maturity
No interest payable if the account is closed before maturity.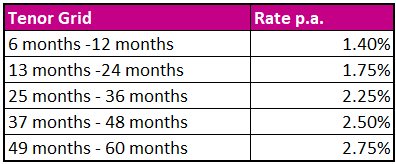 Required Documents
Your original passport, valid for at least one month
A valid Emirates ID
A valid visa for expatriates
Proof of your address (such as a bank statement, utility bill, employer's letter or tenancy contract)
A birth certificate or passport if you're opening an account on behalf of a child.
** Calculator Definitions
Amount:
The total amount of money borrowed, also referred to as the principal amount.
Rate (%):
This is the annual interest rate on the product which is equivalent to APR, which is going to be calculated in this example.
Years:
This is the original term or length of the product, stated in years.
Effective Monthly Payment:
This is the effective monthly payment, which takes into consideration fees and other costs associated with this product. The effective monthly payment is the basis for the APR calculation.
Calculated Annual Percentage Rate (%):
The Calculated Annual Percentage Rate (APR) is determined using the annual interest rate of the product plus fees and other costs. This rate may differ from bank to bank. APR is useful when comparing two or more products with different interest rates and fee structures.